YAY you're getting married & guess what? You just chose the best photographers! (We are biased) haha! So here is a little guide we thought might be quite helpful! Because we care about the important stuff and how you want your celebration of love to be.
Where to begin?
For an actual Wedding to take place all you actually need is:
Celebrant, rings, witnesses & a photographer (to capture it of course!)
I'm not kidding. Thats it.
If all else fails and you have these things organised, you can get married.
Everything else you plan, is the "party" on top of your "Wedding" to celebrate with your nearest and dearest. It's our culture of Marriage & yes it is awesome.
Tips for the actual day…
Everyone will tell you. But the day literally flies past! (We got married over five years ago and I want to go back!) So take some time to yourselves and share a moment of "YAY we just got married!".
Timelines
Almost the hardest part of planning the day is knowing when stuff actually happens and how long it takes etc. Chances are you are a first time bride and this can be difficult guessing time frames. We've been to over 200 or so Weddings, so we've got you covered. (Just an idea on what works well)
Morning prep for the girls takes a while. (Many good makeup artists take 1 hour per person) so make sure you have enough time in the morning. Relax and grab a glass of Champagne if you can too! Guys don't take very long to get ready so plan an activity for them? This can be fun for pics too! A round of golf? Clay bird shooting? Maybe some water-skiing? We've seen it all! 
Write Ceremony to start at 2.45pm on the invite so that no one is late! For some reason if you say a 3pm start, people still arrive at 3pm so the timeline will be off a bit.
3pm (ish) Wedding – For a less traditional Ceremony these take around 30 minutes.
3.30pm – Congratulations take time & hugs are fun. So take 15-30 minutes for this.
4pm – Family photos. Make then meaningful – would you hang it on the wall? Make it 30 minutes if you have a list between 10-20. This gives you a buffer of time anyway.
4.30pm – Mix and mingle with your guests. (Seriously, see your guests before the sun goes down) Don't rush off to take photos, literally hang out with those who came to make your day special. (If your worried about time, why not do some informal speeches here or cut the cake?)
Bridal Party Portraits (Avoid 11am-5pm as the light is just so harsh for photos!)   Allow more time to travel or if you want to go to more than one location but if we are staying at the venue we can do these in 20 minutes (yes you read that correctly!) The full bridal party + girls & guys shots can be done super quickly meaning more time to hang with guests! 
Bridal Portraits – Just the photos of the two of you! We prefer to do a few little sessions then take you away for hours. Why not have 20 mins after the bridal party pics and then 20 mins at sunset?
6.45pm till late – Celebration time – order this however you like!
SUNSET – allow 20 minutes before sunset (just google your wedding date and write sunset after it) and schedule 20 mins before this time. (it will be SO worth it!) Sunset in the summertime can vary in time but we LOVE love love, to take you out in it.
Some of our couples want bridal pics straight after the family photos, which is fine too!
If you are doing a first look (photos before the ceremony) the best option is to put 2 hours aside for this. No we won't be taking photos for 2 hours straight but sometimes hair or makeup goes over, travel times etc. It just means we won't be rushed.
Autumn/ Winter Weddings – Remember the sun goes down a lot earlier so plan this into your day. A lot of Winter Weddings start at 2pm so they can fit everything in and make sure photos can be done before it gets dark.
THE BEST (SUMMER) RUN SHEET IN THE WORLD (Winter start things at 2pm!)
3pm Ceremony
3.30pm Congrats & hugs
4pm Family & friends photos (This is enough time for close family and a few friends, if you are having a photo with every single person at your wedding you may need more time for this)
4.30pm Bridal Party photos in the same spot or close by (schedule more time if you want to go off site (driving) or have a picnic with bridal party)
4.50pm A few photos of just you two!
5pm Mix and mingle with your guests!! Eat/drink and see everyone!!
You can also mix the two things above around – if you prefer to mix and mingle before bridal party photos thats fine too!
5.30pm Do whatever you like in here.

20-30 mins before sunset we take just the two of you away. (More time needed if we are driving to the spot, factor that in)
Bridal party pics (Sometimes can be done nearby the ceremony or family photos too!) We totally recommend ditching them after this and go it alone with us. Super intimate and less stressful loading a heap of people into cars etc
Unplugged Wedding
So often we see so many of your family and friends looking at you through camera screens, an iphone or even standing in front of us, just to capture a picture. When you pay us your hard earned money, we obviously want to give you the best photos we possibly can.
The idea of an Unplugged Wedding is where you ask guests to kindly not take any photos during the ceremony and better yet, don't load any from the day on social media until you have your photos back from us. That means the first photos everyone will see are the best ones.
Plus we usually tag you in a few photos a few days after the Wedding anyway!
Also, we want to see your guests pretty faces! We love to capture moments of Mum, Dad, Grandma etc having a little cry or a smile. It's such a shame if they are holding a camera up instead of being fully present in your moment.
A good article on unplugged Weddings can be read here
But have a think about it. One of our lovely brides had her guests not use their cellphones the whole day of the Wedding. Which was a shock to some, but really made everyone present and actually have many more professional photos from us!
Confetti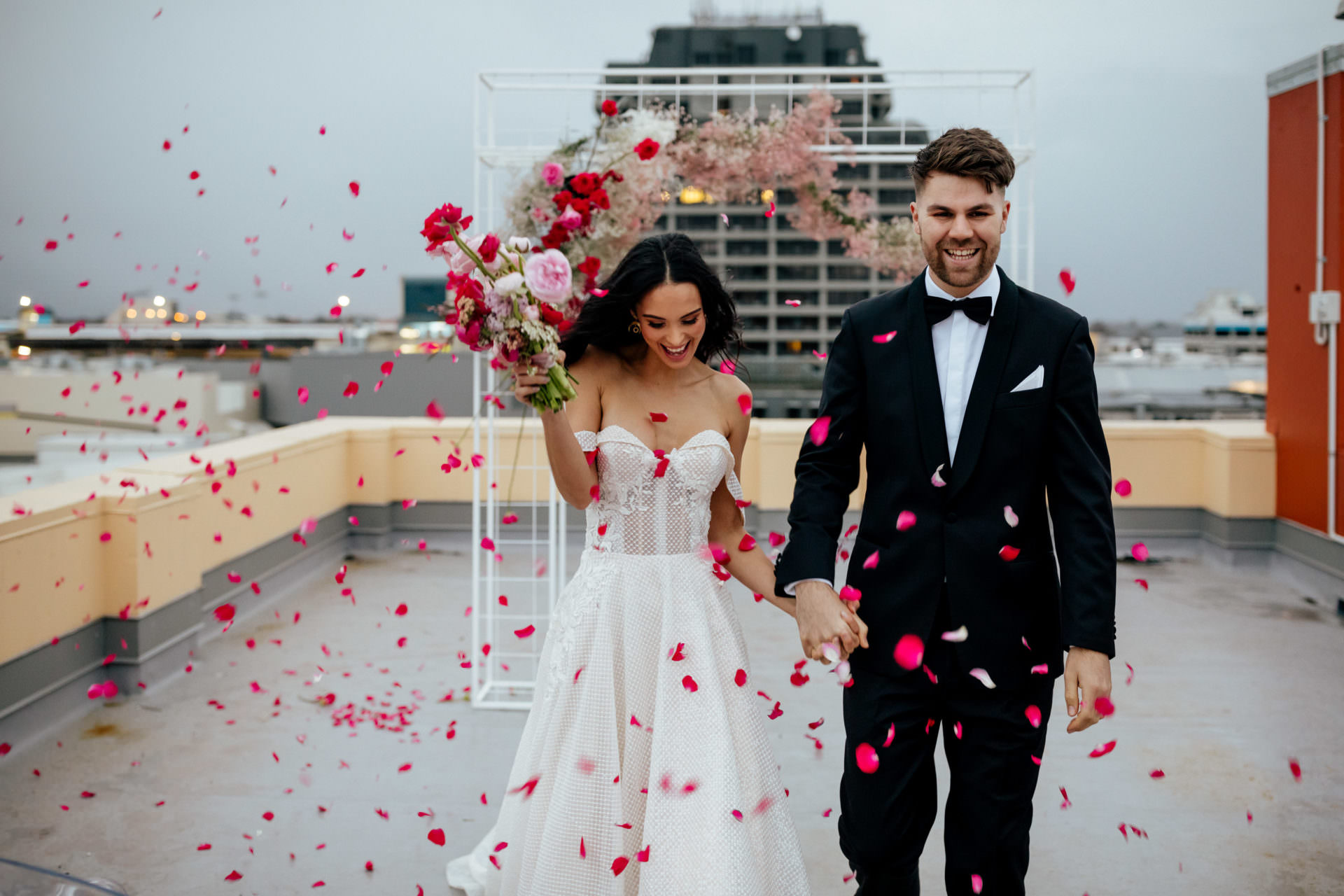 Need I say more? Confetti/Petals are EPIC! Once you become husband & wife and walk back down the aisle – you are filled with just pure elation. Its one of the most amazing moments, so why not make it even cooler with confetti/petals being chucked at you. Seriously it's cool! And actually it is one of my fave photos from my own Wedding! Do it.
Petals outdoors – Confetti indoors (Make sure not to have plastic paper outside)
Rain
If it does happen to rain, do you have a "wet weather plan"?
It's just to be safe, plan ahead incase it does happen — The ceremony + couple portrait locations need to be thought about. Or if you are like me, make the most of it — grab a few umbrellas and rock it anyway! We love to go with the flow and are happy to get amongst it!
If you are having an Autumn/Winter wedding – think about something cool to wear in the photos if it gets cold! As you will be cold, you don't want to have to put puffer jackets on and off etc!
Plan for light
So many really great moments are happening and good lighting can help capture them in a more elegant way.
Large windows & light spaces – when getting ready.
At the reception avoid red and orange up lights during speeches or dancing – they are hard to fix after we leave! Stick to the normal lights & when its time to dance – make sure to get those green, yellow & blue DJ lights going (they make our photos crazy awesome!)
10-5pm is a crazy harsh sunlight time of day. Shadows & heat are all around. Plan to do things after or before this time or we can look for shady places we can hide that have interesting back drops!
Sunset – a must!
Autumn/Winter Weddings – the sun goes down a lot earlier!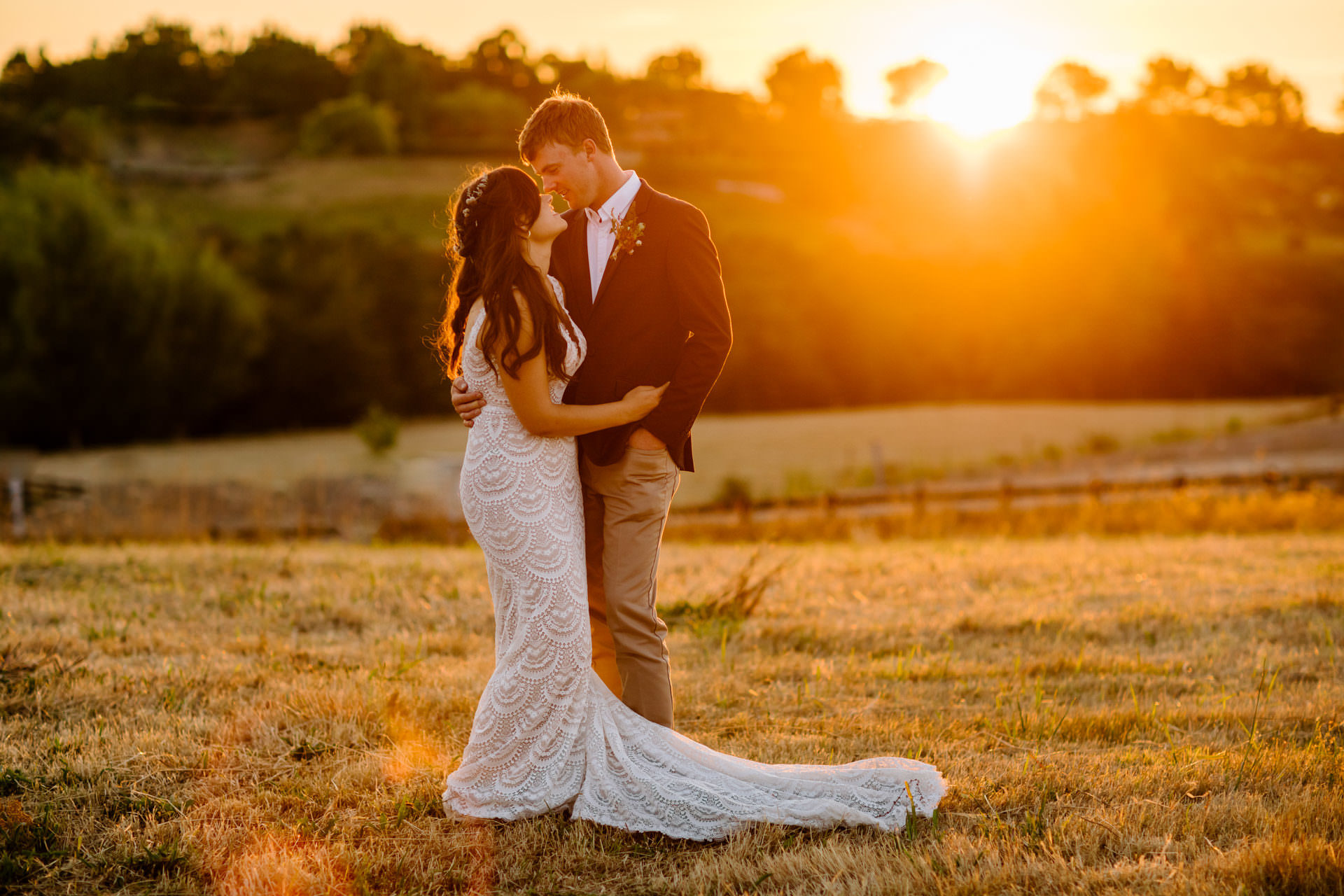 Air BNB over Hotel Rooms
Sometimes you get married away from home and need to get accommodation close by. If you can, try Air Bnb over the likes of hotel or motel rooms. Hotels are small and impersonal, where you can find some hidden gems on Air Bnb that look like someones home – usually more light too and better spots for photos.
Flat Shoes
Think about a "flat shoe" option when looking around for your heels! Most likely, we will take you off for an hour or more of photos and who knows where it may be!
Rocks, sand, cliff tops? It's a really great idea to whip some flat shoes on for our photo time!
A word of advice for your Celebrant
Stand to the side lady! But seriously, just a quick note to tell your celebrant when you are exchanging rings and your first kiss, they should stand to the side of you. (Not in front of other bridal party members either) Nothing worse than a head coming out of your arm, when you first kiss as man and wife! Also where they are holding the vows? Some hold them next to your head (cringe) and its not cool! We suggest hold them yourself with a mic, you don't need to hold hands alllllll day haha.
Oh and ask them what they intend to wear on the day too! We have seen some interesting outfits come along! Perhaps plain is the best option.
We got married too! So we know it can be difficult knowing how much to spend on alcohol & will it do the job? We used this amazing Calculator to find out & bang on! Actually looked like not enough but we had left over. (We had a big drinking bunch!) Give it a go here 🙂
Family & Group photos: Made Easy
Family photos are so very important, yet on the day it might be easy to forget someone. The idea to have family photos with every person at your wedding is fantastic, the actual deed, can be the hardest part of your wedding day! Have an epic MC who is good as bossing people around and knows who the people are in the family photos!
Tip #1 Keep the list as small as possible, don't go for too many combinations as it starts to get confusing. Tip #2 Nominate someone to help get your families into these shots (the MC usually) but can be a friend too! Tip #3 Have a these straight after you have been congratulated as people tend to wander for food, toilet and drinks! Tip #4 Have a really good MC! They will be the ones in charge and need a loud voice or know how to wrangle people. A MIC is usually the best option and make sure you write peoples names on the list, not just simply "mum" or "Aunty" etc.
EAT . EAT. EAT
Other than the fact that you are getting hitched, it is still a normal day. Eat breakfast and lunch! Organize yourself to have nibbles plus lunch (Sushi, chicken rolls, a hearty salad?) We have seen couples get seriously hungry because they forget to eat whilst getting ready – it's a no brainer, no one wants a hangry bride or groom.
Photobooth
They are so great and SUPER fun! The get the oldies going too!
– The pros – funny as photos of everyone having a laugh in a booth.
– Cons – not many people on the dance floor or people to take photos of.
So just be aware if you do get one (totally cool and fun!) you may get less dancing photos as lots of people head here instead.
Videographers
Are Amazing! We are so happy to work with them 🙂 Only thing is, to get the same "type" of videographer as we are – candid mostly and super chill. It can make our day quite difficult if you get a videographer who poses shots all through the day or makes you repeat things e.t.c specially because we don't work like that. Try and get someone similar to our style (documentary all day, with a little direction in portrait time) and all will be sweet!

We also do video now too (Yassss!) So if you want us to do a little video for you too, get in touch 🙂 Check out more here
It's all about you: Questionnaire
We want to know a little more about youuuu! About the day, the vibe, just a little more info to help us capture what is really special to you. It's just to get the process going and to know the ins and outs of what you have planned.
Please take the time to fill this out — it can be done quickly on the computer (no printing needed) If you don't have all the info – fill it in closer to the Wedding.
This will be emailed to you 6 weeks out 🙂
A bit of Inspo!
Everything and anything to help your brain go insane with pretty pictures & Wedding ideas!
Together Journal
Hello May
White Magazine
Nouba
Green Wedding Shoes
Style me Pretty
The Lane
Pinterest (Take everything here with a grain of salt – as a lot of it is heavily staged)
Super fab Wedding People
It will make your life easier & Wedding day epic. We promise!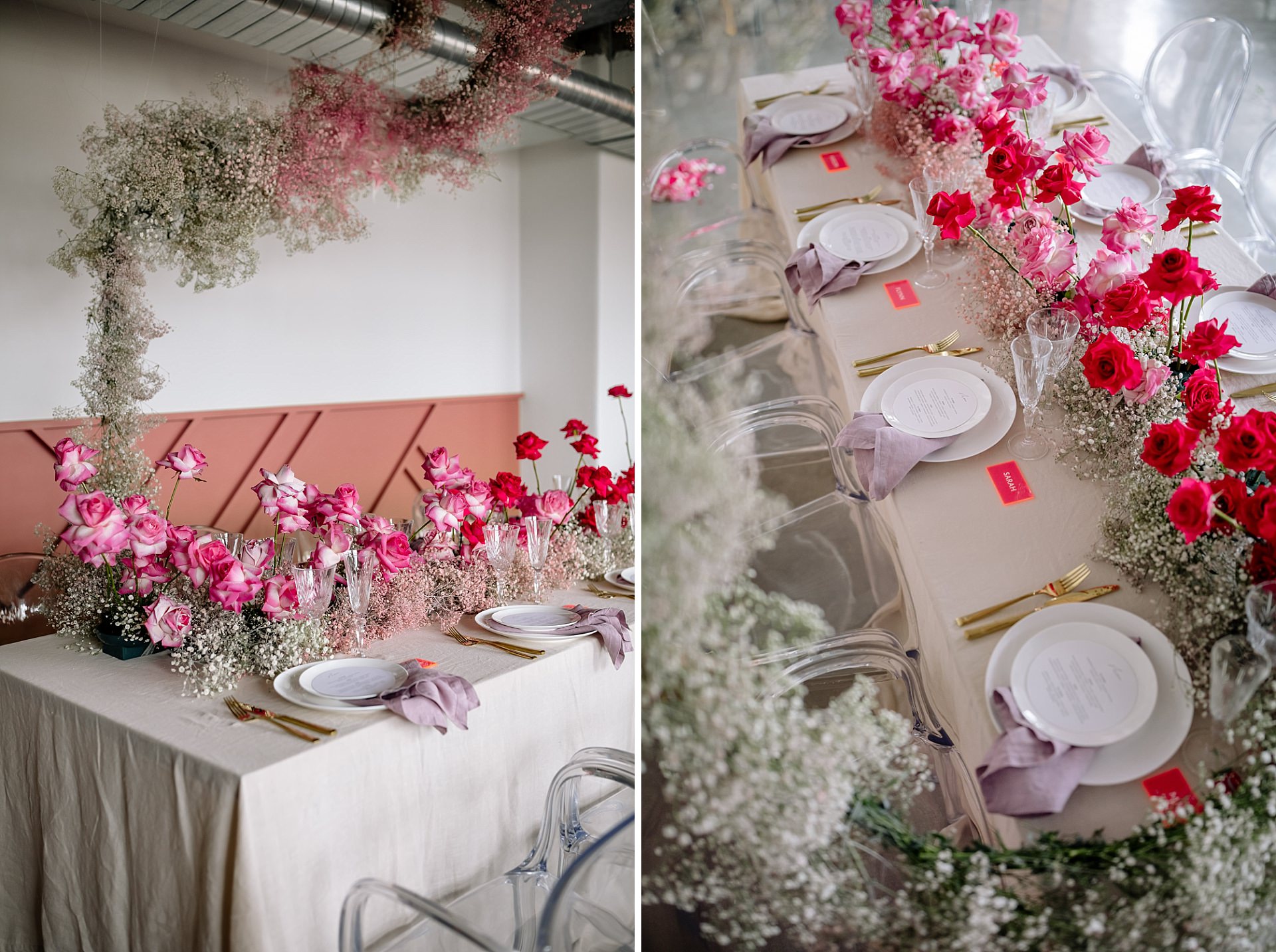 Waikato
Styling – Bridget The White Wedding Club | Twelve Tables |
Florals – Le Fleur | On My Hand |
Celebrants – Marry me Chloe | Abbie Hyde
Makeup – Gabrielle Houghton | Marnie Jade Makeup | Beyond Beauty |
Hair – Jadey Drury | Hannah Stech |
For the guys – Barbershop Co for drinks, cut throat shaves etc.
Food – No Biggie | Sage & Grace Cake |

Auckland
Florals – Blossom + Wild | Floral Stylist Co | The Botanist |
Hire – Flock Events |
Makeup – Fiona Clare Beauty | Abby Plested |
Hair – Boutique Bride |
DJ – KidKu |
Queenstown
Florals – The Vase |

NZ Wide
Dresses – Kellylin Couture | Ruedseine | Grace Loves Lace | Samantha Stokes Bridal | Jessica Bridal Couture | Hera Couture | Paperswan Bride | All the while
Curvey gals – Hera Couture
Bridesmaids – Leave Her Wilder | The Stockroom |